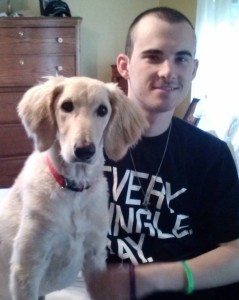 In August 2012, Troy Russell, a scholar athlete, broke two vertebrae in his neck in a diving accident at a Narragansett, RI beach. The break in his neck resulted in an initial loss of mobility to his legs and arms. Over time and through a lot of hard work, Troy has improved physically. Today, he has some movement in his feet, arms and a few fingers. He continues to work hard to progress towards regaining mobility. In fact, he just participated in Project Walk, in which he was able to actually walk with help.
His mother, Darlene, shared his story with Dignify Therapeutics recently. Darlene says, "To this day, I feel that the hardest part of the injury is the bladder and I pray every day for the return of his bladder function."  Troy is still making continued progress, but his independence is limited due to his hand function and an inability to catheter himself.
Currently there are no effective and tolerable marketed drugs for the treatment of bladder retention disorders in individuals with spinal cord injuries, and bladder catheterization is the current treatment. Although it may be years away, Dignify Therapeutics is committed to discovering and developing novel pharmaceutical agents to restore voluntary excretory function for individuals with spinal cord injuries.
If a drug could be developed that would restore voluntary bladder control, what would this drug mean for your son Troy?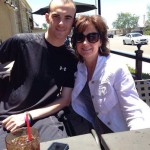 Troy's mother, Darlene, says…
"This drug would mean complete independence for everyday living, and would free Troy from the UTIs which have been one of the most difficult issues of his injury.  Troy would be able to be a teenager again – to live at college without the worries of catheing and maintaining a bowel program.  He would have complete freedom and as his mother/ caregiver, I would too!  This would be a complete breakthrough in the spinal cord injury (SCI) world."
Make Our Vision a Reality: Dignify Therapeutics
Our vision at Dignify Therapeutics is to restore voluntary control of bladder and bowel for people with spinal cord injury, spina bifida, multiple sclerosis and other neurological conditions. We are currently seeking angel investors to help our team of scientists make this vision a reality for Troy and for thousands of others like him that are dependent on bladder and bowel programs. Learn more about investing in Dignify Therapeutics today.
Find out more about Troy on the family's Facebook page, where you can see a video of him walking during his last therapy session at Project Walk.